07 Nov

Metal Roofing Vs. Asphalt Shingles: Which is Better For You?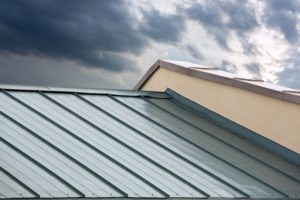 So you need a new roof. With all the different types of roofing supplies available, it can be difficult to know which is best for your needs. Many homeowners don't realize that they aren't limited to conventional residential roofing materials. Although some people like to opt for familiar materials like asphalt shingles or tile, custom metal roofs can offer numerous benefits. The truth is that any kind of building material will have its pros and cons. Today, we're addressing the pros and cons of both asphalt shingles and residential metal roofs to help you decide which option will be better for you.
Aspahlt shingles
Pros:
Low cost
The low cost of this material is often its biggest advantage. If you're on a limited budget, this may be a good option for you. Just keep in mind that you get what you pay for.
Popular
Both homeowners and residential roofing suppliers are very familiar with asphalt shingles. Consumers may be more comfortable using a popular material, since roofing companies are bound to have extensive experience with it.
Easy installation and repair
Asphalt shingles are probably one of the easiest roofing materials to install. In fact, a new asphalt roof can often be installed in one day. These shingles are also easy to repair if they are damaged
Cons:
Not durable
Your roofing supply company may neglect to tell you that asphalt shingles require more maintenance and may not hold up as well under more extreme weather conditions. They generally don't hold their own in hail and can be vulnerable to mildew and moss, which can shorten their overall life.
Boring
You have pretty limited options with asphalt shingles. Though different styles and colors are available, you may end up with a boring-looking roof. Although it'll get the job done, it's not a perk for homeowners who want their house to stand out.
Not eco-friendly
Unlike other roofing supplies, asphalt shingles are often thrown away after being replaced and are not made from recycled materials. If a homeowner is concerned with contributing to our planet's waste, asphalt shingles aren't a good option.
Metal roofing supplies
Pros:
Long life
Commercial and residential metal roofing lasts a long time with minimal maintenance. It's relatively durable and doesn't require repairs, which can be a plus for busy families and those looking to make a good investment in their home.
Wide range of styles
Metal roofing supplies can be made to look like other popular materials, such as tile and shingles. They can also be painted for a pop of color. You don't have to be limited to an industrial look. Custom metal roofs can be made to fit any architectural style or preference.
Environmentally friendly
Metal roofing is typically made of recycled materials (the minimum recycled content is around 25%). What's more, custom metal roofs can themselves be recycled after their 30+ year life. That means you won't be adding to our planet's overall waste. Getting a metal roof is a great way to protect the environment and your home.
Cons:
Cost
The overall cost of steel roofing materials is higher than that of other types. But because you likely won't need to replace your roof for the next few decades (and repairs are usually minimal or unnecessary), your long term costs are less. If you have a small amount to spend and need a roof quickly, it may not be the best option. But if you have a bit more to spend up front, it's a better investment.
Inconsistent quality
There's a wide range of metal roofing types and some are simply better than others. Do your research and use an experienced custom metal roofing company to ensure you're getting the high quality materials you need.
Requires expert installation
Custom metal roofs require a higher skill level for installation. Roofing companies generally don't recommend owners DIY any type of roof installation, but this is especially true for metal roofing. Be sure to use a residential metal roofing company with lots of experience.
If you're interested in getting a metal roof for your home or business, contact us today. Our highly knowledgeable contractors will help you choose the perfect material for your home.