25 Jan

Is a Metal Roof Right For My Home? 4 Factors to Consider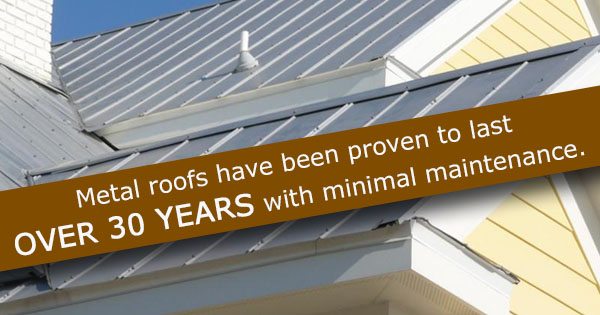 Winter is in full swing, which means many roofs are being put to the test. This season typically brings harsh weather conditions that may damage shingle or slate roofs. If your current roof isn't well-maintained or sustains significant casualties due to wind, ice, or snow, you may even require an emergency roof replacement before spring arrives. But residential metal roofing can protect your home much more efficiently and comes with quite a few perks. Homeowners who choose to install steel roofs benefit in many ways, including a reduced energy bill, improved eco-friendly practices, and a durable product that requires very little maintenance throughout its long life. But in order to decide whether residential metal roofing is right for you, here are a few things to consider.
Residential metal roofs are ideal when…
You don't want to replace your roof for a long time
In truth, no homeowner wants to go through the process of roof replacement. With other types of roofs, you may have to repair and replace them more often than you'd like (and those costs aren't cheap). But metal roofs have been proven to last over 30 years with minimal maintenance. That means that it's more than likely you won't have to replace your roof after its installation. Whether you're planning on selling your home or are staying put for the long haul, having a durable roof that doesn't require extra work is a huge selling point.
You want to go (and save) green
Not only do metal roofs contain a high percentage of recycled content, but they're also totally recyclable after their long lifespan. That can be a big asset for homeowners who want an eco-friendly option. In addition, residential metal roofing is more energy efficient. Other types of roofs allow heat to escape in the wintertime, which means you'll be left with higher energy bills. But a metal roof keeps that heat in when you need it most, which can help you to reduce your energy costs. Its benefits aren't limited to the winter, either; during the summertime, metal roofing will reflect heat from the sun rather than absorbing it, which keeps your home cooler. No matter the season, you'll be saving green and simultaneously going green.
You live in an area that's prone to extreme weather
You might be under the impression that steel roofing materials won't hold up in extreme weather. But actually, metal roofs can withstand nearly any challenge Mother Nature can throw at you. Metal roofs are more resistant to strong winds, heavy snow, and even hail and lightning. A metal roof will keep your home and your family much safer in these conditions, and you won't have to deal with frequent repairs to the exterior — or subsequent damage to the interior — of your home.
You have a specific aesthetic in mind
Some homeowners think that having a metal roof will automatically give your home a cold, industrial feel. But there are actually many different styles of steel roofs to choose from. Metal roofing supplies are often designed to mimic other popular styles like tile, slate, and shingles. That means you can get the exact style you want for your home without sacrificing durability and overall function. And we think that's a win/win.
No matter what kind of home you have, our custom residential metal roofing options are bound to fit your needs. To find out more, please contact us today!