05 Aug

If You're Considering Metal Roofing, Here Are Five Different Types to Choose From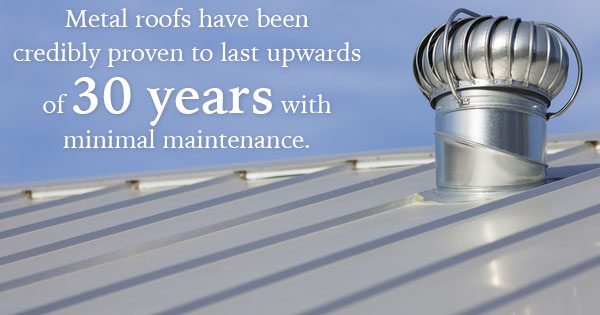 Metal roofs have been credibly proven to last upwards of 30 years with minimal maintenance, but that doesn't mean you shouldn't take your time when deciding what kind of new roof to place on your home.
Contrary to popular belief, there are multiple styles of metal roofing products, and depending on your taste, needs, and budget, one may be better than the others. A metal roof can reduce cooling costs by up to 20%, but the right metal roof could save you even more.
Standing Seam
The most expensive residential metal roofs are typically standing seams. This refers to a seam that is mechanically hemmed every 12 to 24 inches, depending on the look you want to achieve. The biggest advantage of standing seam style residential roofing is there are no exposed fasteners on the roof. However, as previously stated, this can be a more expensive option.
CF Panel
The fasteners are concealed, but the beauty is plain to see. Concealed fastener (CF) panels feature a unique lock-joint system that provides a smooth and clean look for any metal roof. Combined with the innovative paint systems of a roof supply company, CF panels can deliver long-lasting color and vibrancy to any home.
AP Panel
AP panel roofs offer the look of standing seam roofs without the high cost. The benefits of these metal roof sheets include extra durability, a gorgeous appearance, and potential savings on energy bills and homeowner's insurance. They are designed with residential roofs in mind, but are popular for use on commercial buildings, as well.
U Panel
U panel metal roofing is made of 26-gauge commercial grade steel, which is heavier than the 29-gauge material that's commonly used by your roof supply company. More often than not, panels can be installed directly on top of an existing shingle roof, which can save time, labor, and disposal costs.
R Panel
The R panel is a low-maintenance, durable alternative to conventional roofing. It's ideal for retro-fitting over existing composition shingles, which means a lower total project cost. In addition, you have the option to choose from a variety of colors for a sleek, attractive appearance.
Regardless of what type of metal roofing fits your home and your budget, all metal roofs are 100% recyclable at the end of a long life protecting your home. Custom metal roofing could be the best decision you make for your home this summer.