12 Aug

5 Reasons Why a Metal Roof is the Perfect Roof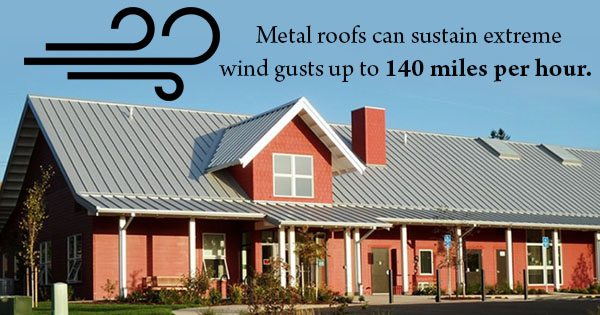 There are so many decisions you will face as a homeowner. It's important that you put some serious thought into each and every aspect of your home so you don't end up with any problems down the line.
Roofing is generally not at the top of everyone's list when it comes to home decisions, but it's one of the most important. Not only is your roofing going to be seen by yourself and passerby more than any other part of your home, it also provides necessary structure and shelter to your family.
If you want the longest lasting, most durable roofing material on the face of the planet, then there's really only one option for serious homeowners: metal roofing.
Steel Roofing Material
A great option for homeowners thinking about installing a high quality metal roof is using steel roofing material. Not only do metal roof sheets look great, but they also offer plenty more benefits for homeowners when it comes to roofing. They last much longer than asphalt shingles, look far more modern, and hold up under extreme weather better than the alternatives.
Longevity
Metal roofs can last more than 30 years with only minimal maintenance, whereas asphalt shingles will need constant upkeep and repairs. If you have your roof inspected at least twice a year and keep up with proper maintenance, however, your new metal roof will be able to last much longer than 30 years. Metal roofs can retain 95% of their emittance and reflectance over their lifetime, too.
Recyclable
Another major benefit of using steel roofing material is that they are great for the environment. They're not going to break apart and pollute the environment like other material, and they can be recycled. Metal roofs, at the end of their life, are actually 100% recyclable, while most are made from reclaimed metal already.
Strength
Metal roofs can sustain extreme wind gusts up to 140 miles per hour. The material is so strong, even with those high speed winds, the roof will not crack, corrode or break under pressure. Because metal roofing is so durable, you won't need to have as much professional maintenance, which can quickly become expensive.
Efficient
Using metal roofing will not only protect you from the elements, but it will also save you money on your bills. That's because metal roofs are so energy efficient; they reflect solar radiant heat, which can reduce energy costs by up to 25%.
Less Buildup
Because of the durability of metal roofs, when an abundance of snow or rain falls down on your home, there will be much less accumulation of precipitation than other roofing materials. This can prevent water damage, ice dams, and other annoying roofing problems.
If you want to learn more about the many other benefits of metal roofing, then get in touch with an experienced roof supply company. For homeowners in the greater Portland area, contact Taylor Metal today to hear about our residential metal roofing services.