23 Sep

3 Reasons to Consider a Metal Roof This Fall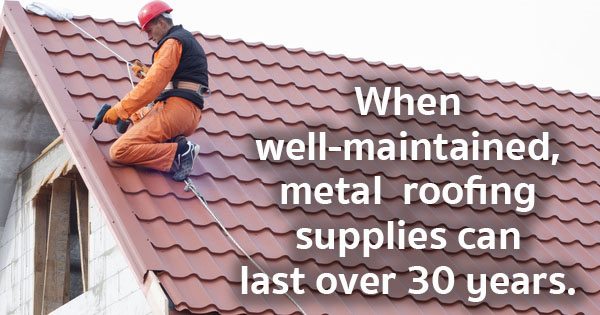 Residential metal roofing is a growing industry, and more and more homeowners are realizing the value of using metal roofing products to improve their daily lives. If you're not up-to-date on all of the benefits residential metal roofs can provide for your family, here are three reasons why you might want to consider making a change this fall:
Low maintenance
Fall clean-up is already a big job, and having to worry about roof maintenance before the first snow can add unnecessary stress to your life. As long as you keep the gutters clean and debris off, you'll be virtually maintenance free. Instead of spending time and money on roof repairs, you can spend time enjoying your home with your family.
Environmentally friendly
The beauty of the fall season reminds us how precious our natural resources are. Luckily, metal roofs are a very eco-friendly option for your home. Typically, metal roof sheets have a fairly high recycled content, and they're 100% recyclable at the end of their long life. When well-maintained, metal roofing supplies can last over 30 years. Other methods require complete replacement after only a decade. Because of these reasons, metal roofing supplies are a great way to preserve our planet and contribute to the green effort.
Keeps costs down
Although this is most helpful during the summertime when air conditioning costs can skyrocket, early fall is not without its hot days. If your current residential roofing isn't doing its job of keeping heat out and cool air in, switching to a metal roof can make a big difference in both your energy bill and your personal comfort. Early fall can feel just as brutal as the middle of summer in some parts of the country, so investing in a metal roof can be a great solution. Plus, keeping your summertime bills at a minimum can allow you to redistribute funds elsewhere — whether you have a house-related project that needs addressing or a fun family trip to take over the holidays.
This fall, take advantage of the benefits that metal roofing supplies can provide for you and your family for decades to come. Contact us today to explore your options and to schedule your installation.